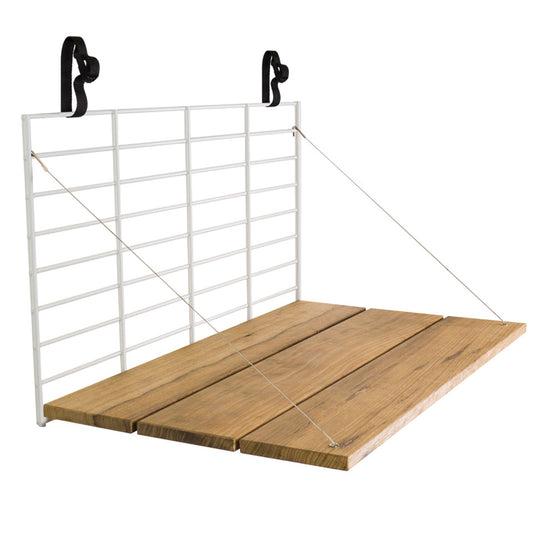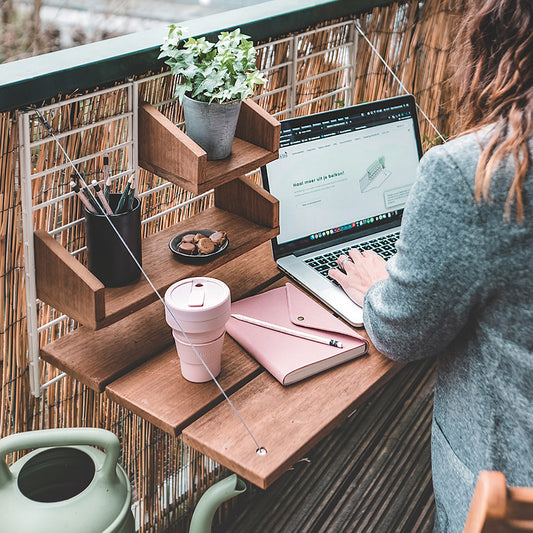 Product Information

The FENCY Balcony table gives your balcony an XL feeling!
In collaboration with Tolhuijs Design, Balkonbar introduced the FENCY Balcony Table, a table made from recycled materials, contributing to a circular economy. 
The FENCY Balcony Table contains a wall rack measuring 80 x 40 cm, a set of Fraké PlatoWood planks, a bracket set and mounting material (2 straps, 2 steel cables with hooks and 4 tie-wraps).
The Balcony Table fits on almost every balcony railing (but unfortunately not on closed railings, such as walls and glass railings). If you're not sure about your choice, you can send us an email with a photo of your balcony. We're happy to help you making the right choice. 
The fencing of the FENCY Balcony Table is the core element and can be expanded with various accessories. In its former life, several materials have been used as safety fencing along railway tracks. New safety requirements, makes existing safety fencing redundant. We give these discarded fences a second life as a Balcony Table or Wall Rack. The production takes place in sheltered workshops and prisons. There the fences are first cut to size, then cleaned and coated in different colours.
Options
The FENCY Balcony Table can be extended with planks (Fraké wood) for more decoration and storage fun. You have a choice of 4 sizes, available here.


You can hang the shelves on the rack using the hanging hooks supplied. These brackets were originally supposed to be discarded at the factory where they had been used for powder coating. 
Material Properties
PlatoWood Fraké is a fast-growing hardwood coming from responsibly managed West African forests with an OLB certificate. PlatoWood Fraké is a sustainable type of wood and has a sleek, stylish and exotic appearance. The pinstripes and pinholes give this type of wood a characteristic appearance. Thanks to thermal modification, the wood is characterized by low-maintenance and doesn't need to be treated when using outdoors. Good to know is that Fraké slowly turns a little grey. However, linseed oil slows down this greying process.
Balcony Table FENCY White
In stock
Not available
Directly available